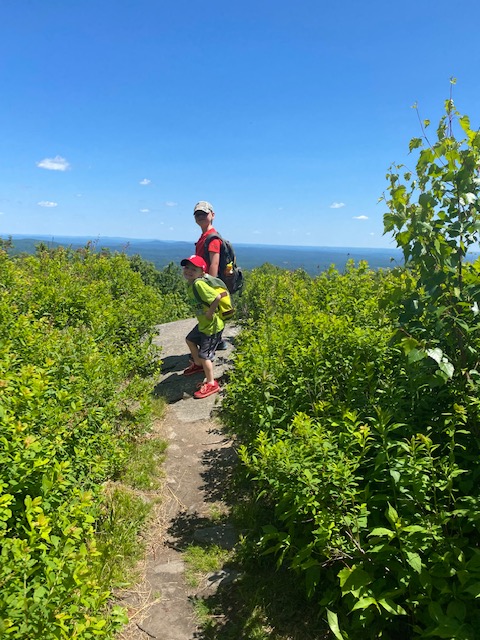 Every spring our Grapevine parents talk about local hikes that are close to home and child friendly. Here is what Carol Lunan, our Family Support Director, has to offer on the subject:
There is a hike in Greenfield that I have done many times over the years with my children, North Pack Monadnock, which is part of the Wapack Trail.
The summit is a 1.5-mile hike and is fairly easy, especially at the beginning. About a half hour into the hike, halfway to the summit, there are some boulders to climb over and then some flat ledges and a wonderful open view. There were days when we would stop there, eat lunch, and sometimes pick and eat blueberries later in the season. The trip from there is a bit more challenging but if your family is up for it, it is an amazing view at the top.
Another wonderful hike to do with small children that offers great views is The Gregg Trail and Dutton Brook Trail combo, also in Greenfield and near Crotched Mountain Rehab Center. The entire 1.9-mile loop is handicapped-accessible, which means you can take strollers for tired toddlers!
There is a great book by Joe Adamowicz called "The New Hiking the Monadnock Region: 44 Nature Walk and Day-Hikes in the Heart of New England." It is a great resource for families. We have also hiked Shieling Forest, Skatutakee Mountain, Pitcher Mountain, and several others. The kids love exploring these trails and finding wilderness surprises along the way!